The shorter exam will be available for test-takers worldwide beginning April 16.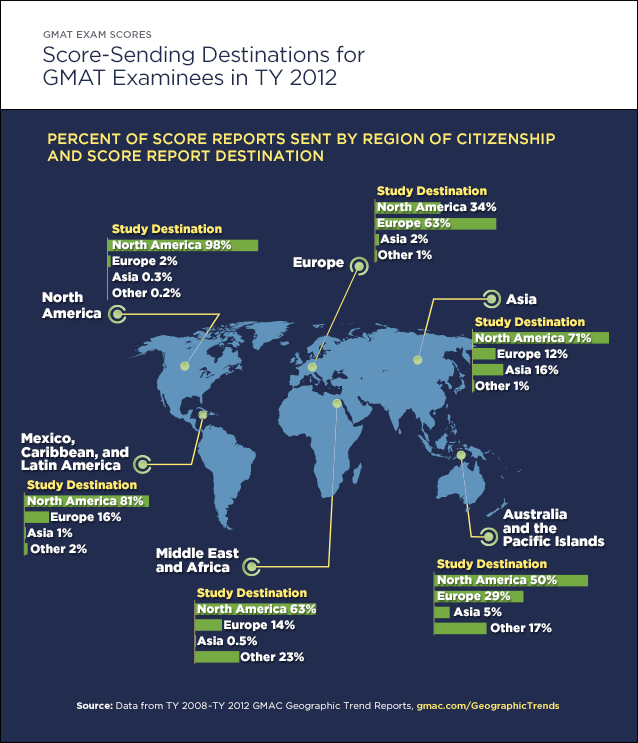 RESTON, Virginia (February 27, 2013)—Graduate management education is becoming more global and more diverse, as a broader range of global applicants are sending their GMAT scores to different types of programs in different parts of the world, according to a trio of student mobility trend reports out today from the Graduate Management Admission Council.
"Test takers today have an increasing number of study opportunities with quality schools emerging all across the world, and more types of graduate level programs to consider," said Alex Chisholm, GMAC director of statistical analysis. "Test takers sent scores to a record 5,281 programs in 2012, up 21 percent from 2008, reflecting growing interest in a variety of programs and study destinations."
A record 286,529 GMAT exams were administered in testing year 2012 (ending June 30, 2012), with 831,337 score reports sent to MBA and other types of graduate management programs, according to the GMAC World Geographic Trend Report, which is being released along with the European Geographic Trend Report and the Asian Geographic Trend Report.
The record volume partially reflects increased interest in the GMAT exam with the addition of the Integrated Reasoning section on June 5, 2012. Historically, test volume rises just before changes are made to a standardized exam as test takers opt for a familiar format at the transition. GMAC administers the Graduate Management Admission Test, used in graduate business and management programs worldwide.
Within the latest numbers are signs of increasing diversity. Key trends:
GMAT testing outside of the United States continues to grow quickly, with tests taken by non-US citizens rising 19 percent from 2011 to 2012 and representing 59 percent of global GMAT volume.
More test takers are sending their GMAT scores to specialized master's degrees in business, such as master of accountancy, finance and management. In 2012, 29 percent of all scores were sent to specialized masters programs, up from 17 percent in 2008.
The percentage of exams taken by women hit 43 percent in 2012—a record for the third straight year. Women made up the majority of test takers for citizen groups in China, Taiwan, Thailand, Vietnam, and Russia.
More younger people are taking the exam, as the percentage of tests taken by those younger than 25 was 47 percent in 2012, up from 38 percent in 2008. More than half the Asian and European citizens taking the GMAT exam were under 25.
GMAT testing in the United States picked up slightly in 2012 after falling from recessionary highs recorded in 2009. The percentage of US test takers sending their scores to US schools remains a world-leading 98 percent. The US remains the top score-sending destination, with 76 percent of score reports sent to the US.
With 58,196 exams taken in 2012, Chinese test takers are the second-largest citizenship group after the US and represent 20 percent of global testing.  The proportion of scores Chinese citizens sent to the US was up slightly (78 percent in 2012, compared with 77 percent in 2008) as their interest in specialized master's programs has increased — from 43 percent of scores sent in 2008 to 64 percent in 2012.
Indian citizens, the third-largest citizenship group, took 30,213 GMAT exams in 2012, and test takers are sending a higher percentage of scores to programs in India, the United Kingdom, Singapore, France and Canada.
European citizens sat for 24,847 GMAT exams in 2012, up 26 percent from 2008, and they sent more than 60 percent of their scores to programs in Europe, the highest level ever. Citizens of Germany, France, Russia, Italy and the UK together sat for more than half the region's exams in 2012.
The World, Asian, and European Geographic Trend Reports are available at gmac.com/geographictrends.