ICCC's Winter Gala 2013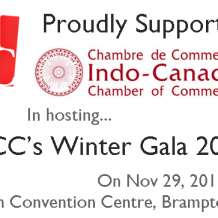 Time: 6:30pm onwards
Date: Friday, November 29, 2013
Venue: Pearson Convention Centre
Address: 2638 Steeles Ave E  Brampton, ON L6S 6J9 ‎
The Winter Gala – popularly known as the Indo-Canada Chamber of Commerce (ICCC)'s Annual Holiday Dinner & Dance is one of the Chamber's
marquee event is one of the most popular Indo-Canadian community event in the Greater Toronto Area. Over 600 guests attended the event in 2012.  They include Chamber's esteemed members, sponsors, friends of the community, professionals, entrepreneurs, senior representative of corporations, government officials, political leaders, and opinion makers. The program comprises a blend of theme-based entertainment,
spectacular song and dance sequences and sumptuous culinary delights.
Buy your ticket or reserve your table now, click here: Winter Gala 2013