Goal – to look like Huffington Post.
Newspaper theme (theme-junkie.com)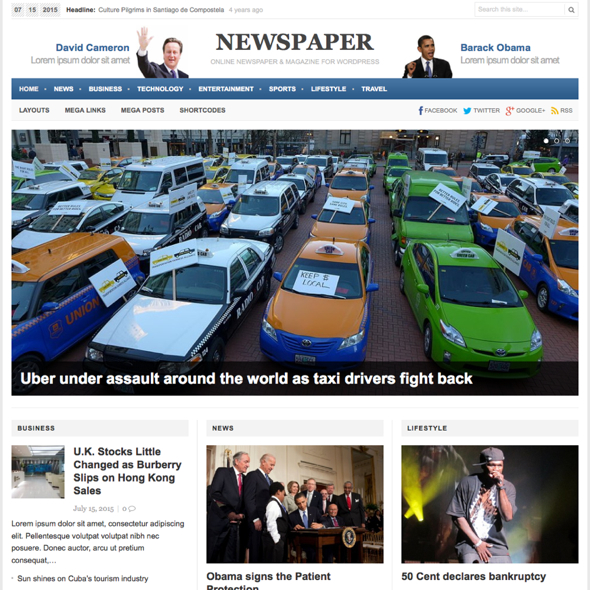 The Professional template is closer. Lucid could work. And maybe Chameleon as well. But we need two columns.
This one is very close to what we have now but with a bit more appeal. could be used for member page. (Trim Theme)
Envisioned Theme looks like it could be a lot of fun in action (especially for student pages).
This one is the closest I've found to Newspaper (Magnificent Theme)
If Bold Theme could be made "tidier" it could be really nice.
WhosWho Theme has a good academic/newsy feel to it. Maybe for RSS or something like that.
I get the feeling this one will be useful, if not just for ideas. (GrungeMag Theme)
Interphase Theme as well.
eList theme portfolio page could work for members.
Other Notes:
Nova theme isn't great, especially because the photo doesn't show up in the preview. I think we'll want one, even if just a little one.
Chameleon is strange in action but maybe it just needs to be fixed. The slideshow overlay at the top isn't good.
 Other Huffington Post imitations:
ThemeForest.com doesn't allow "clone" themes so we wont' find one that imitates huff post there.
From Themeforest.com:
"Not For Profit"
ChurcHope Theme -could work for student resource
Accende Theme – ditto
Heaven's Corner – this one has a lot going on and could be good for student resources.
Bhinneki – I love this theme. but I can understand how it might not work.
"Magazine/Blog"
Sahifa – it could work. it already has some orange in the theme, too. if we can get more columns going, it would be a Huffy.
RevoStar – if we can change the colours and maybe make it less sporty, this could be good for Student Resources.
NewsRoll – Depending on the themes we decide on, this could work nicely for Students but design-wise is mismatchy.
Crumble Theme – I love this theme. Choose the "light" version. For Students.
This theme (Harpoon) is worth looking at. It's available in three different versions and is really subtle and elegant.

Velox theme – It has everything we would need but doesn't look that great.

Adapt is really beautiful. Worth looking at.
Members Pages (Themeforest.com):
Portfolio > Gallery > 4 column (Dandelion Theme)
Portfolio > Paging > 4 column (Striking)
Yin & Yang — probably not the "tone" you want to go with here but it's still really nice and would work really well to browse through a million pages of members.
Elegance – Portfolio section
Revelation – Portfolio 3 column
Class & Elegance – portfolio small
Gaia – Portfolio full width.
eFolio – portfolio 5 columns
Cleanness theme – portfolio 4 columns
Magnum – portfolio with descriptions like the others and sidebar optional.
Pai – interesting portfolio layout
Most of these themes are kind of the same. What's important is that they have room for a description, not too much design, and a sleek layout.
These are for academics and/or corporate reps, so they should match that personality.
From woothemes.com
Canvas – very customizable, you can view it with all different columns etc. Be sure to click on "magazine" view.
Delicious Magazine – could really serve our purposes. try not to see the "food" of it. I especially like the slideshow with side bar at the top.
Gazette Theme – I'm guessing it's CNN? Anyway, it looks great and official. Same layout as Huff Post essentially.
Other:
Structure Theme from Organic Themes – I think this layout is really great. Multi-column. It does everything the huff post layout would do.